Klim - Dakar Jacket
Product Code: klim-dakar-jacket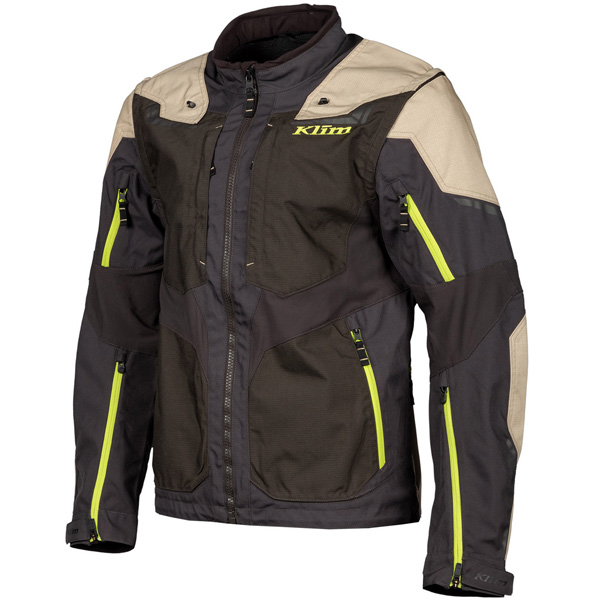 Klim - Dakar Jacket
Product Code: klim-dakar-jacket
Klim - Dakar Jacket
Off-road/Dual-Sport conditions have met their match with the Klim Dakar Jacket. This new version has been updated with a streamlined fit and better ventilated design, along with removable sleeves that store in the jacket. The Dakar is the ultimate off-road/dual-sport jacket for the most demanding of rides.
Jacket Features:
Shell/Construction:
Highly durable lightweight 600 denier chassis
Karboniteâ"¢ micromesh on back and in stretch zones
Karboniteâ"¢ ripstop overlays on shoulders/elbows
500D 4-way stretch zones
Designed to fit with Klim Dakar series off-road gear
Zip-off sleeves store in back pocket
Ventilation:
2 massive adjustable wrist vents with dual zippers
2 bicep vents
2 sleeve hole vents
2 back vents
collar tab back
Storage:
2 chest pockets
2 hand pockets
1 rear pocket for storing sleeves in non-symmetrical
2 chest liner pockets
Fit/Comfort:
Improved athleticized overall fit and comfort
Comfort collar
Fit compatible with D30® L1/L2 armor pockets functional even with zip off sleeves[no shoulder armor with arms removed]
Visibility:
3Mâ"¢ Scotchliteâ"¢ reflective material
Bio-motion recognition
Customers Who Shopped for This Item Also Shopped For...